There's still life in the PI sector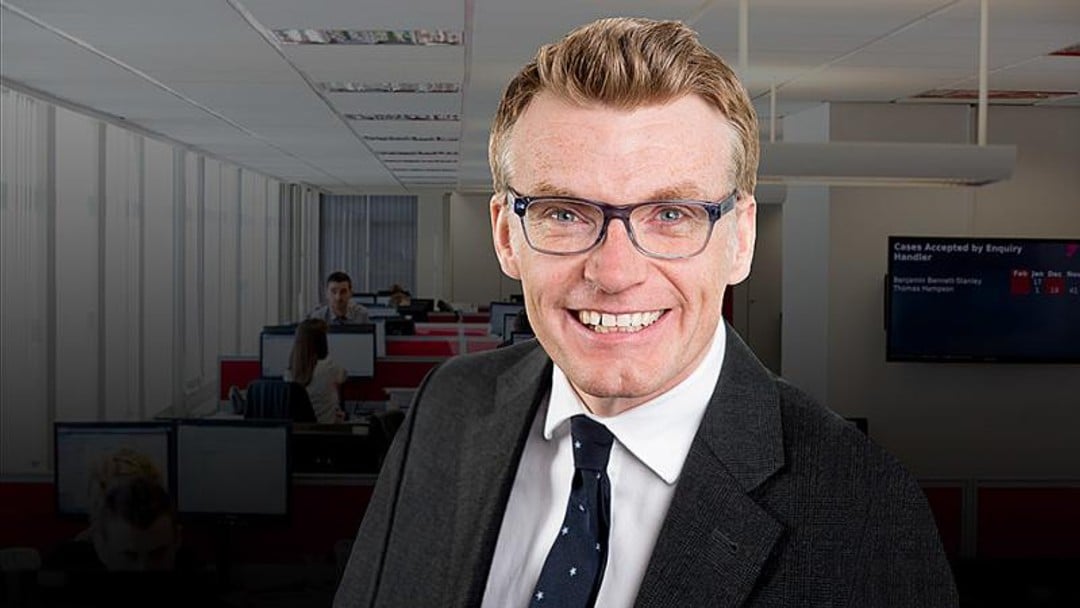 By
Despite government reforms waiting to strike, Ed Fletcher is confident his firm can ride out the approaching storm thanks to its niche specialities, investment in technology, and a passion for helping the seriously injured, writes John van der Luit-Drummond
'When examined more closely, there are several flaws to the government's proposals to cut down on the perceived issue of fraudulent claims,' says Ed Fletcher, chief executive officer of Fletchers Solicitors. 'The plans do not take into account the impact on vulnerable road users: namely, the 18,000-plus motorcyclists who make up 10 per cent of all casualties on UK roads. And that's not forgetting cyclists and pedestrians.'
The Ministry of Justice's consultation on reforming whiplash to reduce fraudulent claims and combat the so-called compensation culture closed in January. Access to justice was the buzzphrase for many solicitors responding to the MoJ's proposals, but few addressed the ministry on behalf of motorcyclists and other vulnerable road users the way Fletchers did.
'Vulnerable road users will feel the brunt of any crackdown and may be denied access to justice,' says Ed a few days after the consultation's deadline for responses. 'Accidents involving people not protected from impact by their own vehicle tend to be much more complex, and this has not been considered in many parts of the proposals. The injuries are also usually more varied, and who is to blame is far more likely to be disputed. This complexity means it is far harder to deal with these cases through a small claims court. Claimants will need more in-depth legal advice and potentially more expensive medical reports. Instantly, vulnerable road users are at a disadvantage when trying to make a legitimate claim.'
One of the main incentives driving these controversial proposals has been the suggestion that insurance companies will pass on over £1bn of savings to drivers. However, as Ed explains, the insurance industry's promised reduction in the cost of motor premiums is unlikely to affect motorcyclists as their insurance fees are already, on average, around one-third of the coverage of a car. 'Cyclists and pedestrians pay no insurance at all,' he continues. 'So, any potential insurance cost reductions will not affect them – but it is these individuals that may pay the price when it comes to having the ability to seek essential legal representation to make a legitimate claim.'
The best way to combat this disadvantage, says Ed, is to make a clear distinction between claims from different types of road users, rather than applying a blanket approach to anyone on the road. Specifically, there should be more of an emphasis on whether the claimant in question is an occupant of a vehicle or a vulnerable road user. Without this distinction, Ed believes the government's plans will do little more than make it harder for vulnerable road users to receive the compensation they deserve.
But what of the argument that whiplash fraud is rampant within the claims industry? Compared to the Association of British Insurers' assertion that there were 70,000 dishonest motor claims in 2015, Fletchers estimates that less than 0.0002 per cent of motorcycle claims have a finding of dishonesty. This is despite vulnerable road users being ten times more likely to be injured in an accident than a standard motorist. 'There is little evidence to suggest vulnerable road users make up anything more than a minute portion of dishonest claims,' says Ed. 'In reality, it's so statistically insignificant that it's almost non-existent. Yet, when it comes to making a claim, these road users will still be seen as part of a perceived compensation culture issue and will be treated with the same scrutiny.'
Despite the Legal Aid, Sentencing and Punishment of Offenders Act 2012 banning the payment of referral fees in PI cases after 1 April 2013, such fees are still paid. The issue of referral fees is an uncomfortable subject for many solicitors to address, but not Ed, who is unequivocal when asked to comment on the ban. 'We don't pay referral fees. We go direct to our customers, which has been massively rewarding. We as lawyers are intelligent enough to be able to work out how to get our own clients. It is possibly laziness on our part as a profession, aided greatly by the case management companies and third parties surrounding that. We had our hands tied for years because of the marketing rules imposed upon us. That didn't help but we have not helped ourselves and that is why a market has grown up around PI.'
So how does Ed respond to allegations that the sector is rotten, with claims management companies and law firms encouraging exaggerated and fraudulent claims? 'There is a lot less bad behaviour than is actually portrayed,' he says. 'A few bad apples have abused the process and now, on the face of it, we have draconian legislation and reforms coming off the back of one or two who have acted appallingly. But you get appalling behaviour in every industry.'
While many in the claimant lobby and politicians have criticised the ABI's alleged fudging of fraud statistics and emotive language, such as 'the epidemic of whiplash', Ed has some grudging respect for the insurance trade body. 'Historically we have been poor as a sector in staying on one message. Hats off to the ABI who have been excellent in that. It has been to our detriment that the claimant sector hasn't been able to get behind one single strong message.'
It's personal
Established in the seaside town of Southport in 1987, Fletchers Solicitors has grown into one of the UK's largest medical negligence and serious injury practices, and is now the go-to specialist in motorbike accident claims. The firm currently deals with a self-estimated one in ten of all medical negligence claims and around 30 per cent of all motorcycle claims in England and Wales.
Joining the then high-street firm in September 1996 as a personal injury solicitor, Ed, the nephew of the firm's founder and chairman, Rob Fletcher, admits to 'coasting' in the earlier stages of a career he had yet to fully commit to. That all changed, however, in 1999 when a motorbike accident severed Ed's spinal cord and left him a paraplegic wheelchair user. In addition to changing his life, the accident transformed the way Ed thought about the practice of law and his clients. Having already begun to specialise in the niche of motorbike accidents, the young solicitors decided to dedicate his professional life to helping others with spinal injuries.
'I have an empathy with those that are seriously injured. It drives me every day to fight for them,' he tells me. 'To know you've got a law firm on your side which is being led by somebody who has been seriously injured, spent months in a rehabilitation centre, and who is living day-to-day with a spinal cord injury – that is attractive to our clients and I'm delighted to assist in any way that I can. I've made it my lifework to stitch my values into the company so that service can be delivered to everyone that comes to us looking for help.'
Fletchers' four core values – trust, innovation, performance, and development – are inscribed across the walls of its offices, a constant reminder of what the firm expects of its lawyers and what they in turn can expect from the business. Values can soon fly out the window when hard business decisions have to be made, however, and many firms are already putting contingency plans in place should the proposed PI reforms become a reality. Still, Ed believes Fletchers is somewhat insulated from the government's reform agenda by the core types of work it undertakes. However, he admits the proposed changes do have the potential to impact his firm. 'It becomes difficult to justify any carte blanche changes to the present system that would have the impact of restricting access to justice,' he remarks. 'In the three niche areas where we are involved, you can make a pretty coherent argument that they should stay outside the reforms.'
And what of the possibility that some general PI practices will muscle in on the serious injury work and niche medical negligence areas in which Fletchers operates in the hope of turning a profit? 'That would be the logical step,' he says. 'Others have tried and failed in the past. I'm sure they'll try again. Obviously it is our job to be better and keep our reputation intact. We have seen attacks into our niche spaces but they've had no impact on our market share. I imagine further afield we will need to do further investigation of our niche areas. Hopefully it will be the same result as before.'
Asked whether he is considering diversifying into other areas, Ed replies: 'Helping catastrophically injured people is in our DNA. I made a vow to dedicate my working life to those that have sustained serious injury and to help them rebuild their lives. That will remain a core focus for me, but depending on how draconian the government's reforms are we will have to consider the remaining landscape.'
Growth and innovation
Ed became a partner at Fletchers in 2005 and a director two years later. He was appointed chief executive of the firm in 2012 and since then has overseen an unprecedented period of growth within the practice, which became an alternative business structure in 2015. Fletchers was one of the fastest-growing firms in the last financial year, with turnover rising by 37 per cent in 2015/16 from £12m to £16.5m. The results have been a boost to Ed's plans of breaking into the elite club of Top 100 firms by April 2018.
Part of this growth is down to customers' awareness of Fletchers' brand and the firm's willingness to collaborate with others in the sector. The creation of the Medical Law Network, a panel that offers other like-minded law firms the opportunity to challenge the likes of Slater & Gordon, Irwin Mitchell, and outsourcing group Outspire for a dominant share of the clinical negligence marketplace, is one such example. The network deals with thousands of enquiries every month and is looking for more specialist firms with the same ethos to collaborate with it.
The network is backed by Fletchers and its sister brand, Patient Claim Line, which specialises in medical negligence claims. As Ed explains, the consumer-facing website and network allows Fletchers a greater degree of independence compared with some of its competitors, who are reliant on case management companies for their workflow.
'The guiding principle of our organisation is that we want to be independent in work supply because that way we can provide the level of service to an injured person that we think they deserve, not one that is imposed upon us by third parties,' he says. 'We invested very heavily a number of years ago in marketing and advertising and in just understanding "brand" – what works and what doesn't. Now we have a multi-brand, multi-channel mix to speak to our clients in the way that they want and through the medium that they want to, whether that is online, radio, directory. And of course we have a very strong referral network of previous clients, charities, and medical experts.'
On the face of it, Fletchers would appear set for further growth. Looking further ahead, however, Ed admits that 'dependent upon their extent' the PI reforms 'certainly could' have an impact on his firm's aspirations of climbing the legal rankings. So what has Fletchers put in place in case the reforms do go ahead, which seems highly likely. 'We have projected on the worst-case scenario but we have also invested heavily in technology and process,' replies Ed. 'We've just embarked on a three-year project with the University of Liverpool on artificial intelligence which we are pretty excited about and which is an illustration of how we are trying to future-proof against the reforms.'
The partnership is part of a landmark project to develop future tech innovations for the legal sector. As part of the project, Fletchers is recruiting two PhD students to work alongside its in-house software programmers and the computer science department at the university to explore and develop AI innovations with the aim of improving efficiencies for law firms. The end result, the firm hopes, will be better services for clients. The North West-based firm received £225,000 in public funding from Innovate UK, a government organisation that works with companies across the UK to drive forward technology and innovation, as part of its 'Knowledge Transfer Partnerships' programme.
While law firms are far from renowned for their innovation in technology, Ed believes AI will continue to grow in importance and create a more effective legal sector. Even the legal sector's fears of reform to PI and clinical negligence fees have not dampened his enthusiasm or commitment to the project. 'Our vision of the future is sustainable profitability by putting people at the heart of everything that we do, but that idea of sustainability is very important to us,' says Ed. 'We could right now rein in, we could put up the shutters and become protectionist and just try and make the most of what we have got, but we are very proud of employing the people across the organisation, and we believe that by investing now in technology and process we can actually make ourselves fit for the brave new world that we are going to be looking forward to, irrespective of what the PI reforms throw at us.'
Staff engagement
But technology and process isn't everything and investment and engagement with staff remains key at Fletchers. The firm has achieved the Investors in People Gold Award and was recognised as one of the 100 best places to work by the Sunday Times last year. These accolades seem to match the stats suggesting that Fletchers is an attractive organisation to join and remain at. Since 2012, the number of staff at the firm has increased fourfold from 90 to over 380, as well as creating 50 new jobs after opening a new office in the heart of Manchester in 2017. Meanwhile, a new trailblazer scheme (one of the first of its kind in the country) was launched allowing three aspiring lawyers to qualify as solicitors after a six-year apprenticeship with the firm. It is a world away from 1987, when Rob Fletcher began the firm with just nine members of staff.
'We still see a place in our business for brilliant young lawyers who want to develop into the brilliant business leaders and technically excellent solicitors of the future,' says Ed. 'So while legal services remain a key feature of our whole business offering we'd be crazy not to invest in the best legal talent we can get our hands on. We want to retain it and develop it so they become brilliant lawyers. And that means supporting them with process, technology, and AI, but there will still be a requirement for dollops of legal brains.'
While new routes of entry into the profession may make it easier for wannabe solicitors to join the ranks of firms across the country, there are, arguably, easier ways to make money than in PI, and Ed admits to wondering where the next crop of bright young PI lawyers will come from. Moreover, will those who are currently working within the sector remain invested in it, or strike out for greener pastures in other, more secure areas of practice?
'My gut reaction is yes, people will think about leaving or not joining a PI practice,' he says. 'But if you have a look at all the other sectors in the legal market, where do you go? Crime, family, conveyancing? It's pretty tough in most areas. There aren't too many areas out there that can make you money and are both personally and professionally rewarding. And for me there are certainly no areas out there that sate that appetite like PI. There is still life in the old dog yet. And as long as you have people who are vocationally driven, and while it is still profitable to do the work, then PI will still be attractive to bright legal talent.'
John van der Luit-Drummond is deputy editor of Solicitors Journal