The art of listening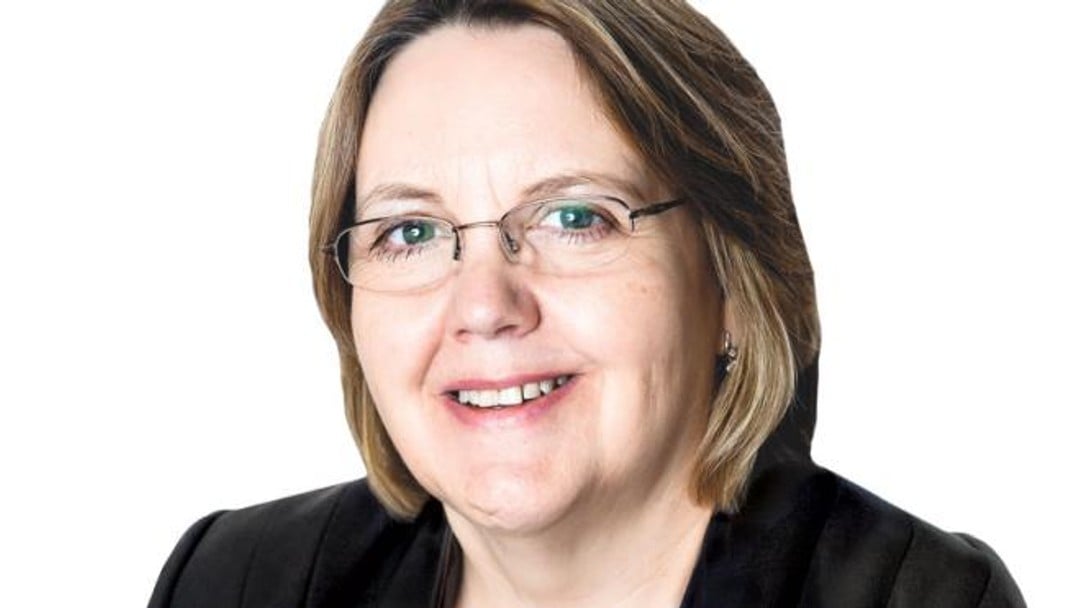 By Nicola Laver
Managing partner of Black County firm FBC Manby Bowdler, Kim Carr, explains how her passion for people drives her
Kim Carr is in her fifteenth year as managing partner of Wolverhampton-based FBC Manby Bowdler (FBCMB).
The firm sits at the heart of the Black Country, named after its long industrial history of coal mining, and steel and iron foundries.
With a subtle accent (don't say brummie, you'll be in trouble with the locals), Carr is Black Country born and bred – and legally trained. Nearly 35 years after completing her articles with a local firm, later acquired by what is now FBCMB, she is its first female managing partner.
Today, the firm serves clients across the West Midlands and Shropshire, operating from various offices. It continues to expand and is now in the top 150 law firms in the UK.
Carr says she has observed "much more specialism" over the years she has been in the profession. "When I started you had partners who did work across teams, across departments in a way that is just unheard of now", she says. Which has improved the quality of individual lawyers, she adds, "because you can get that real, in-depth specialist knowledge".
The firm, for instance, has a team dedicated to Court of Protection work; it doesn't do general private client work. This 'specialism within specialisms' is, she says "absolutely right for the individual and the client".
It also benefits the firm in terms of risk management. "It's much easier to manage a risk better if you've got people who are real experts." It also contributes towards a teamwork culture within the firm, she says.
It's no surprise the firm is embracing technology; but what arguably sets FBCMB firmly apart from other tech-driven firms is the centrality of the client.
"It's about client communication", she stresses. "The way clients want us to communicate with them has changed. It's about demonstrating to clients that we will communicate with them in the way that works best for them and not the way that works best for us."
The firm uses The Link App which gives clients 24/7 access to important information about their case or matter.
FBCMB also launched its own app in 2017 which Carr describes as "a useful starting point" though the firm is talking to tech providers about how to move its development forward.
Clients can book events, contact a specialist, read client reviews and access legal updates thought the app. Can't clients do all this on the website? They can, "but I think for some people they'll be happy going to a website and some people are going to want an app. It's basically enabling what the client wants and how they want to communicate with you", says Carr.
Sense of community
FBCMB also forms the 'hub' for Hub.Legal – a network of around 140 smaller, two to six-partner, firms for which the firm provides CPD and training. "We are", says Carr "what we call, the colleague down the corridor".
Hub.Legal spun out of the original Pannone Connect2Law network (FBCMB was a hub firm) before Pannone was acquired by Slater & Gordon in 2014. As Carr explains: "We said, it works for us, we're going to carry on doing it ourselves."
Through it, the firm provides members with access to expertise that isn't necessarily available in view of their size.
Carr says: "We help and support them from a compliance point of view. If they've got a query on something, they can pick up the phone to someone here and ask, what would you do on this matter?" They pay a fee for some of the training (where external speakers come in), but otherwise no costs are involved.
Clients are referred to FBCMB on a 'no poach' basis with the referring firm getting a share of the fee back for making that referral. This, says Carr, fosters a reputation solidly built on trust.
The firm's defining tenet is investing in its people. "There are two strands to that", expounds Carr. "One is the people themselves (which I'll happily talk for hours about); then there's the tech side to give people the tools they need to do their job." On the back of this ethos, the firm recently moved its practice management system and switched hosting provider.
"A big thing for me is a client portal where you can interact with the client over the internet 24/7 so that their means of communication improves with us", says Carr.
The firm is also talking to tech companies about a platform for both external client communication and internal staff communication, so that it can ensure it has the right tools for people.
Wellbeing
I challenge Carr about the conundrum of using tech to allow clients 24/7 communication with lawyers – and her duty to protect people's wellbeing. She concedes this is an issue but the firm has mental health firstaiders, offers wellbeing initiatives; including free weekly yoga in the offices for staff, office based mindfulness sessions, a running club and a book club.
The firm also encourages people to try to achieve a work-life balance. Carr says: "You have to be aware of people with caring responsibilities and so for some people logging on in an evening so they can leave early works better for them than nine-to-five."
It also has a paid time off policy: if staff are performing and the team is doing well, they can take the time off they need. "It's about treating staff like adults", she says. "We don't want people ringing in saying, I'm not well – when actually your child's not well – because that's fine, you need to look after them, but communicate with us properly."
It's the same with agile working. Carr explains: "People don't have 20 or 30 days'
holiday, they can take the holiday they need – they just have to communicate with their team; and make sure the team has the resources it needs. If they want a three-week honeymoon, they can have a three-week honeymoon."
How do you know it's not being abused? Carr says individuals have to use a system to log their paid time-off and the days they take. It's monitored, and holiday and paid time-off must be approved by line managers.
The art of listening
As Carr and I chat it becomes increasingly apparent that people, as human beings, are critically important to her – whether clients or her own staff. So, for example, as a member of the LawNet network (Carr has been its chair for four years) the firm is mystery shopped, clients are surveyed on completion and the firm is on reviewsolicitors.co.uk.
And that's just the start. As Carr explains: "Every so often we have listening opportunities with clients. We'll get them in and ask them to tell us: what do you like, what don't you like, what do we do that we should continue, or do more of ?" She says it's absolutely vital to use every chance you get with clients to find out what they want.
Does she worry about negative feedback? Out of around 700 reviews the firm recently looked at, Carr says eight were negative. The marketing team then wrote to each reviewer "to find out what they were unhappy with and what the firm could have done differently".
As she points out: "Every business gets complaints, but what you have to do is use those as a learning opportunity". She believes that if you handle a complaint properly and genuinely listen to what they have to say – you can turn that person into your biggest advocate.
Praise within the firm is regularly celebrated and rewarded. Feedback Fridays see the marketing team collate external feedback and communicate "great feedback" to individuals and teams. The 'stellar star' award goes to an individual top achiever who receives a certificate and a voucher. "They're not huge costs", says Carr, "but it's amazing the positivity you get from people when you give them."
Staff are encouraged to praise their colleagues. Carr says: "We've got postcards – and we ask people, if a member of your team or the wider team has done something great, send them a card that says, 'good job, well done'."
Staff encouragement is Carr's big passion. She firmly believes if staff are engaged, they will do a good job, make the client feel good and bring in more business. And she should know – she's been with the firm her entire career, working her way up to become managing partner in an era when female law firm leaders were (still are) poorly represented.
Carr was the first member of her family to go into law (indeed, to go to university). She wanted to do something that challenged her and would help people. Has being with the same firm since her articled clerk days been to her detriment?
"That's a good question and one I think is hard to answer because you don't know what would have happened differently if you hadn't done it."
Indeed, most of FBCMB's existing partners started as trainees with the firm. It now recruits trainees and apprentices, and those taking the legal executive to solicitor route.
Carr's view is "solicitor apprentices are a great antidote to [the risk of elitism] because they are supported... I don't think it will undermine the quality of the profession, as long as people do it right, and that is always the big challenge, isn't it?".
She admits the first year the firm took on solicitor apprentices, it had much to learn around the fact that you are taking them very young. "They are different to trainees when they come in", she explains. "You need a different support structure around them and you need to treat their development differently".
Any firm considering taking apprentices should, she advises, speak to another firm who has done it.
The local community is evidently important to Carr. "We are interacting with the families and businesses in those communities, so it's really important we are embedded in them. The best way to do that is getting involved in community projects."
The firm puts its money where its mouth is. Its community involvement includes a disabled riding school, hospices, a youth charity and a hospital. It's also involved in Wolverhampton's Dementia Action Alliance.
A private client partner is a dementia champion and has trained staff internally as dementia friends and raised awareness of dementia within the firm as a whole.
And there are business advantages; for instance, the Court of Protection team helps the hospital with patients and staff.
Carr observes: "Sometimes people think that corporate social responsibility is something woolly and pink and fluffy and there's no commerciality to it. I actually think it's both and I don't think that because you're getting one, it undermines the other at all."
Carr is also on the University of Wolverhampton board of governors and the firm links in with it, making an added impact on the lives of the locals.
No compromises
She has seen huge changes in diversity. On being made partner, Carr was one of just three female partners – and that was seen as progressive back then. Today, the firm boasts a diverse partnership and Carr says it is "representative of our community in terms of ethnic diversity and BAME candidates" – without compromising on quality.
But she concedes it is lacking in black partners and lawyers – though she thinks this is an issue permeating the profession and universities.
I first met Carr at LawNet's thirtieth annual conference at the sumptuous Celtic Manor Resort in Newport, South Wales in early November. The first woman chair of LawNet, she got involved "to find out what it could give the firm and to find out what it could give me".
Indeed, the firm's paid time-off policy resulted from a conversation with another member firm. "What LawNet is brilliant for," she enthuses, "is people will share best practice. People will talk about what they've tried, what's worked, what hasn't worked."
Support structures
Carr's palpable empathy for others is inextricably linked to caring for and mothering her severely autistic son, Sean, for more than 20 years. She credits him for making her a better manager: "I have had to learn to be more patient. He also gives a sense of perspective. I think it's made me much more willing to accept diversity and not pigeonhole or judge people."
In their spare time, she and her husband take Sean on long walks to get him away from the crowds, which is what he needs. She offers advice for managing partners of the future: "Build a good support network for yourself. Interacting with others who are doing the job and talking to other people is a real bonus."
We can also learn from people outside of the profession. "Sometimes", she warns, "we can be a bit insular. For me, being a trustee at a small local charity, being on the board at the university: you can actually interact with people who can help and support you in what you're doing by just being there to challenge you, to question what you're doing you're your thinking on things – because they look at it from a different point of view."
On 'blue Monday' in January (supposedly the most depressing day of the year) massages are arranged for staff across its offices. Carr says: "I have never known anything that books up as quickly in my life." The firm also does this throughout the year for other initiatives such as Mental Health Awareness Week.
It's not hard to see why, under Carr's leadership, FBCMB was named one of the Sunday Times' best companies to work for in the UK.
Nicola Laver is editor of Solicitors Journal and a former solicitor