'Finely balanced' article 50 challenge could go to European Court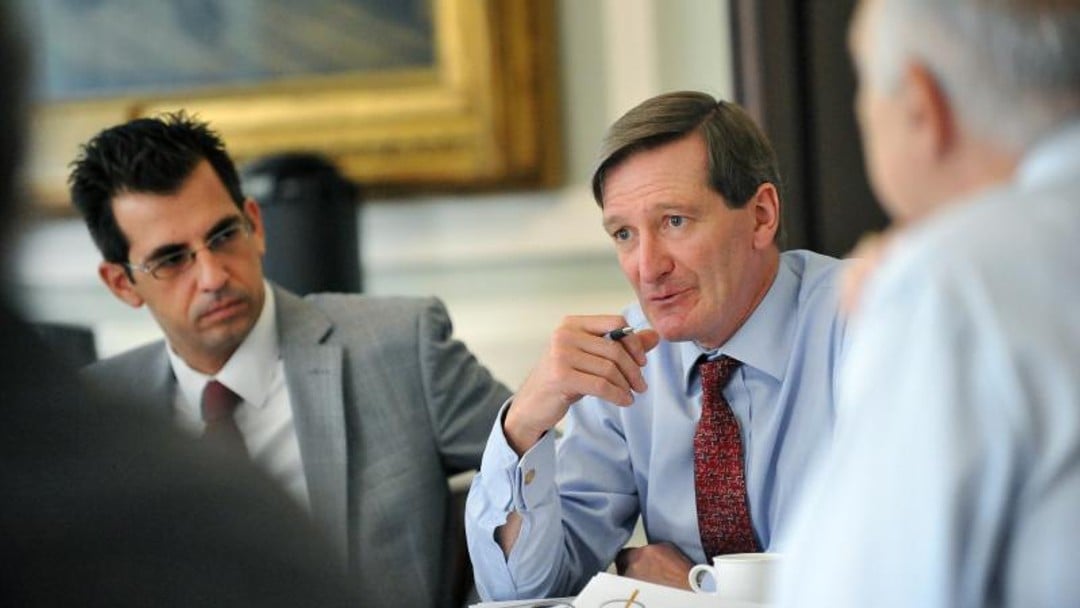 By
Great Repeal Act is 'a complete red herring' devised for politicians to bat around parliament, says Dominic Grieve QC
Former attorney general Dominic Grieve QC has said the article 50 legal challenge was 'finely balanced' and that, regardless of the UK courts' decision on the matter, a reference to the European Court of Justice could not be 'entirely ruled out'.
Speaking at the launch of a new report from Brunel University-based think tank Britain in Europe, the government's former top lawyer described the Brexit vote as a 'revolution' in British politics.
'Looking at the map of England,' he remarked, 'I was struck by, and with the exception of East Anglia, that essentially, the map of who voted to leave and who voted to stay rather represented the map of the English Civil War of the 17th century.'
The Conservative MP and barrister said there was 'a peculiar irony' that having announced the purpose of leaving the EU was to assert parliamentary sovereignty 'the first act of the new government has been to suggest that article 50 is entirely a matter for the royal prerogative, and that parliament should have virtually no say in the process'.
'I think the legal challenge '" as lawyers like to say '" is quite finely balanced. And I await, with great interest, to see what comes out of it,' said Grieve.
'But even the process of starting article 50 '" the very beginning of the unravelling of our relationship with the EU '" appears to be fraught with difficulties,' he continued. 'The government will have to resort to a massive number of Henry VIII clauses to give it the maximum power and flexibility without parliament's involvement.'
Moreover, Grieve said that, with the mechanism of article 50 still 'uncertain', he could not 'entirely rule out that there won't be a reference to the European Court of Justice on its enforceability. Although that hasn't happened as both parties didn't wish, for different reasons, to raise that argument'.
'One thing I do know as a lawyer is that the process of unravelling a 45-year relationship is immensely complicated; it falls into a vast number of categories and each one has different impacts,' he continued.
'It is going to take a collective effort from academia, lawyers and government to try and dissect the individual components of the relationship we have with the EU to determine what it is we want to ask from our partners to retain or jettison.
'In that sense,' he added, 'the Great Repeal Act seems to be a complete red herring. It is merely a devise for parliamentarians to bat about while government gets on with the negotiating.'
Grieve, who was dismissed from David Cameron's cabinet for opposing the repeal of the Human Rights Act, said he was 'optimistic' about the UK remaining a signatory to the EU Charter of Fundamental Human Rights.
'There is clearly an undercurrent of hostility to anything that is foreign. The prime minister dropped her desire to pull out of the European Convention on Human Rights as part of her leadership bid,' he said..
'Now that may be a temporary drop, and unfinished business that she might return to if she is still in office in seven or eight years' time, but I think there is lack of appetite for embarking on that at present.'
'We have some breathing room. I don't think anybody at Westminster '" outside a tiny number of people '" think the EU Charter on Fundamental Human Rights is of any particular relevance to the United Kingdom. There are far more people who think that the ECHR is.'
The 100-page BiE report '" which brings together 14 experts, including Sir Geoffrey Nice QC '" urges the government to retain a strong international outlook to effectively tackle every challenge from business to human rights in a post-Brexit Britain.
The report also strongly criticises isolationist trends and an emerging culture of exclusion and calls upon the government to offer reassurances to all non-UK EU citizens in the country that they will continue to enjoy equal protection with UK citizens after Brexit.
BiE founder, Dr Dimitrios Giannoulopoulos, said: 'Brexit is so much more than just seeking solutions to practical problems that disentangling ourselves from the EU will naturally create. It is also, much more importantly, about looking back again into the elements that make our society's fabric and redefining the UK's role in Europe and the world.
'The policy report brings to light the acute challenges that we are facing on the road ahead with Brexit. Dominic Grieve laid out bare the major dilemmas the UK will have to tackle as decisions are made about the way forward, and we ask ourselves whether there is really a way to square the circle about access to the free market and controlling immigration.'
John van der Luit-Drummond is deputy editor at Solicitors Journal
john.vanderluit@solicitorsjournal.co.uk | @JvdLD
Image copyright of Sally Trussler