Burges Salmon raises over £23,000 for charity in huge talent show at Bristol Beacon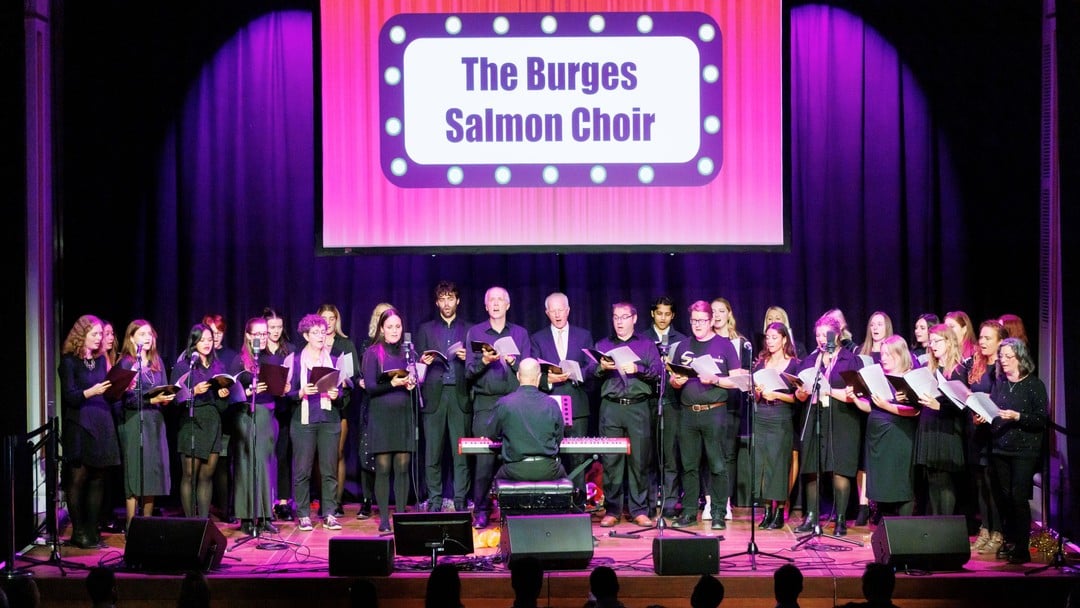 By Events
Performers from across the firm showed off their talent at a sold-out charity event hosted at Bristol's iconic music venue
Independent UK law firm Burges Salmon was amongst the very first to perform at Bristol's new iconic venue, Bristol Beacon, in a mammoth charity event aimed at raising funds for the firm's charitable theme, No Child Goes Hungry.
Burges Salmon's Got Talent saw partners, lawyers and business professionals perform at the newly renovated Lantern Hall, in front of a packed audience of almost 300 people with over 100 people also watching the live stream. They treated the crowd to a series of exceptional music, singing, dancing and stand-up comedy acts with the firm's choir also belting out some iconic tunes including a moving rendition of Leonard Cohen's Hallelujah.
The sold-out event raised more than £23,300 through ticket sales, donations, auctions and a raffle. Funds will be distributed to a number of charities across Bristol and Edinburgh, who are working to tackle the issue of food justice for children and young people in different ways,  including Feeding Bristol, the Trussell Trust and the Edinburgh Food Project. 
Burges Salmon has been supporting the charitable theme of No Child Goes Hungry for almost four years. In that time, the firm has supported over 30 different groups through its fundraising and has also worked in partnership with many organisations to provide pro-bono advice, volunteering and in-kind support to help them tackle food poverty and support vulnerable children lacking access to food.
The talent show also marked a celebration of Burges Salmon's long term partnership with the Bristol Beacon, with the firm supporting the charity on its once-in-a-generation transformation.
Jamie Cameron, director in the Employment team and head of community engagement at Burges Salmon, says: "Our talent show was a roaring success and we're so proud to have raised such a phenomenal amount for our charity partners in Bristol and Edinburgh and play our part in supporting the all-important work they do in our communities to end food poverty and ensure no child goes hungry. Responsible business sits at the heart of our culture and values and is core to our ambition to being a sustainable and inclusive firm to ensure our clients, people and communities flourish. On behalf of the whole firm, I would like to thank our brave and talented singers, dancers, musicians and comedians for treating us to such a fantastic show, to our supportive audience for being so generous in their donations, and of course huge thanks to Bristol Beacon for giving us the unforgettable opportunity to be amongst the very first to perform at its new impressive venue."
 Alice Honeywill, partner in the Pensions team and chair of Burges Salmon's charity committee, adds: "The event was a real display of Burges Salmon's culture at its best, working together to put on a fantastic event and supporting our hugely talented performers with great encouragement. It was a fabulous and fun evening, all in support of our local communities."
 Rosa Corbishley, development director at Bristol Beacon, comments: "We were thrilled to host Burges Salmon's talent show as one of the first events to take place in our newly transformed spaces. The ongoing support from Burges Salmon means that we have been able to deliver on our promise to build one of the best, most accessible performance and music education venues in Europe. The partnership we have built together will ensure that many more people in our community will benefit from life changing musical experiences." 
Earlier this month, Burges Salmon was named the Overall Leader 2023 in the Lamp House Strategy Responsible Business Annual Report, recognising the impact of the firm's overall ESG strategy to advance its people, protect the planet and preserve good governance. With a robust Responsible Business Framework and a 2026 Responsible Business Ambition, Burges Salmon's initiatives are based upon five core objectives which deliver on the firm's ESG priorities.