Burges Salmon Corporate and M&A: Deals Update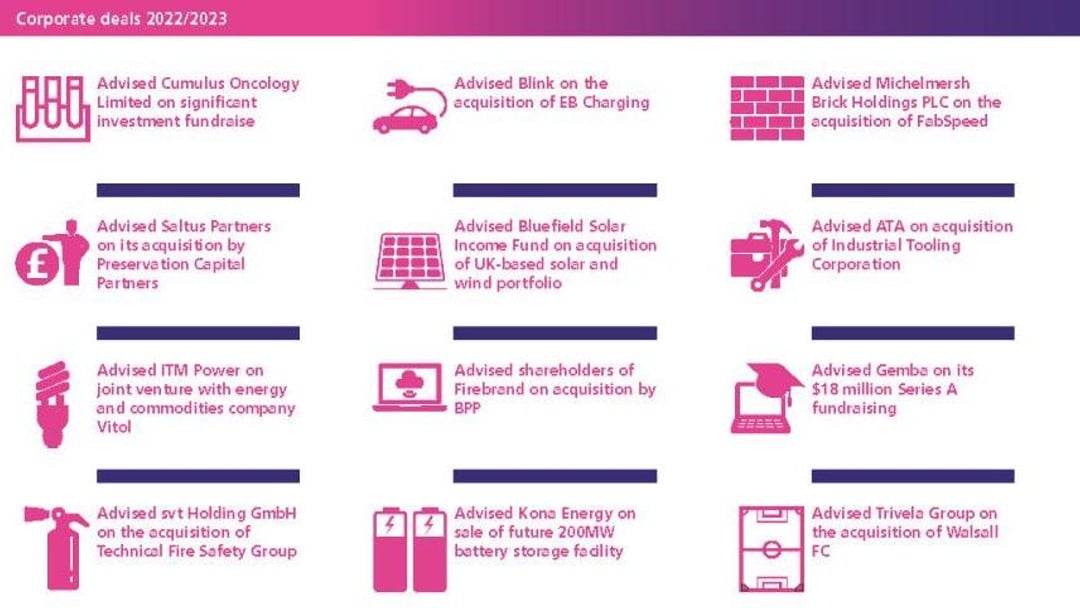 By News
 Firm highlights the continued success of its Corporate and M&A team over the last 12 months despite ongoing market uncertainty
The Corporate and M&A team at independent UK law firm Burges Salmon has over the past 12 months advised both domestic and international clients on over 110 transactions across a variety of sectors, with deals totalling in excess of £4.5 billion.   
Although the team has continued to see a lot of market volatility in 2023, there have been strong levels of M&A and investment activity across a number of sectors including defence, technology and clean energy.  Key growth sectors for the team have included healthcare, life sciences and financial services (see attached for deal highlights).  Looking ahead, the team expects ESG, digital transformation and cross-border activity to be significant themes in 2023/24.
The team has appointed four new Corporate and M&A partners in the last 12 months, namely Malcolm Donald (Private M&A and Energy Transition) in November 2022, Andrew Mills (Private M&A and Private Equity) in April 2023, and the recent appointments of Alex Lloyd (Private M&A and Technology) and AJ Venter (Public M&A and Financial Services) on 1 May 2023.
Nick Graves, the Head of Burges Salmon's Corporate Group, comments "The last 12 months have continued to be a period of growth for our Corporate and M&A team and we are delighted to have been involved in a number of significant and interesting transactions for our clients, both in the UK and internationally."