Appeal judges allow assisted-dying campaigner's case to proceed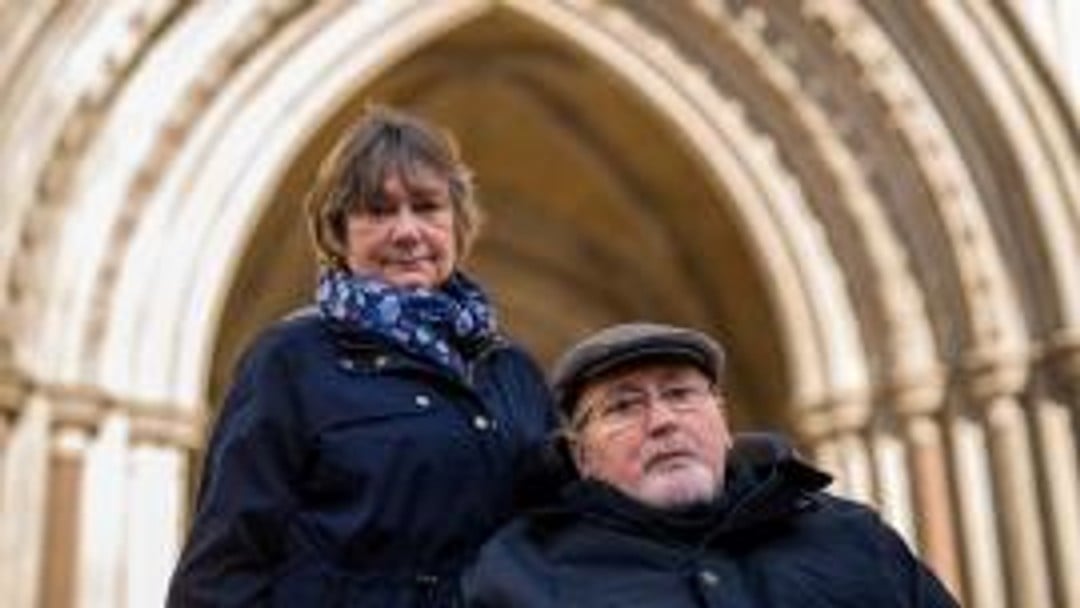 By Sr Duran-Corretjer Duran-Corretjer
Court distinguishes Noel Conway's circumstances from Nicklinson and says case is arguable
The Court of Appeal has granted assisted-dying campaigner Noel Conway (pictured, with wife Carol, outside the Royal Courts of Justice) permission to take forward his application for a declaration that the ban on assisted suicide is incompatible with his right to life under the European Convention on Human Rights.
Last month, the High Court refused Conway's initial application by a 2:1 majority, with Lord Justice Burnett ruling that, following the Supreme Court's 2014 decision in the Nicklinson case, it remained constitutionally inappropriate for a court to make a declaration of incompatibility.
Overturning the ruling this morning, appeal judges said the 67-year-old's circumstances were different from Nicklinson and that he had an arguable case that should be allowed to proceed.
'The material before the court in the present appeal, although similar in substance to that in Nicklinson, is a more wide-ranging selection of primary factual and expert evidence,' the court said.
The court also referred to new medical evidence 'dealing with temporal prognosis, capacity, and withdrawing and withholding treatment from consultant clinicians with experience of treating those with terminal illnesses including psychiatrists, a psychologist, a neurologist, an oncologist, an intensive care physician, and a specialist in palliative medicine'.
Conway has raised more than £90,000 for legal expenses via his Crowdfunder page, and a directions hearing is expected to take place after Easter, with a full hearing before the summer.
Securing a declaration of incompatibility would be the first step in campaigners' ongoing efforts to bring about a change in the law, but prospects remain slim. Even with a court decision in Conway's favour, the campaign, which is supported by Dignity in Dying, continues to face a lack of consensus in parliament.
In the High Court, Burnett LJ expressed 'deep sympathy' for Conway but warned that for as long as parliament remained 'unable to coalesce around a change in the law which would command popular acceptance', reform was 'unlikely in the foreseeable future'.
Nevertheless, there is support among judges for a review of the law – or at least for making a declaration. Mr Justice Charles, in the High Court, disagreed with Burnett LJ and Mr Justice Jay, although he accompanied his decision with the comment that even if the case were to proceed, this would be 'effectively academic'.
What's more, this morning's Court of Appeal decision contains strong hints in support of a declaration and of an actual change in the law. Not only has the court considered evidence from a legal academic and the friends and families of patients suffering from terminal diseases, it has also specifically considered evidence from other legal systems where assisted dying is lawful.
'It is arguable that the evidence demonstrates that a mechanism of assisted dying can be devised for those in Mr Conway's narrowly defined group that is practical so as to address one of the unanswered questions in Nicklinson,' the judges said.
This argument is at the very heart of the Conway case. The court papers include a set of proposals to legalise assisted dying in the case of patients suffering from a terminal illness and with less than six months to live, subject to medical and court approval.
Lord Falconer's assisted dying bill, the last attempt to convince parliament to remove the ban, contained similar safeguards. It was defeated by a 330-118 vote in September 2015.
So, for campaigners, a declaration would at the very least bring renewed pressure on parliament to look again at its 'settled will', in the way that sympathy for Debbie Purdy's plight in the House of Lords eventually forced the director of public prosecutions to issue specific assisted-dying guidance for prosecutors.
Jean-Yves Gilg is editor in chief at Solicitors Journal