50 years a solicitor: Lodders lawyer recognised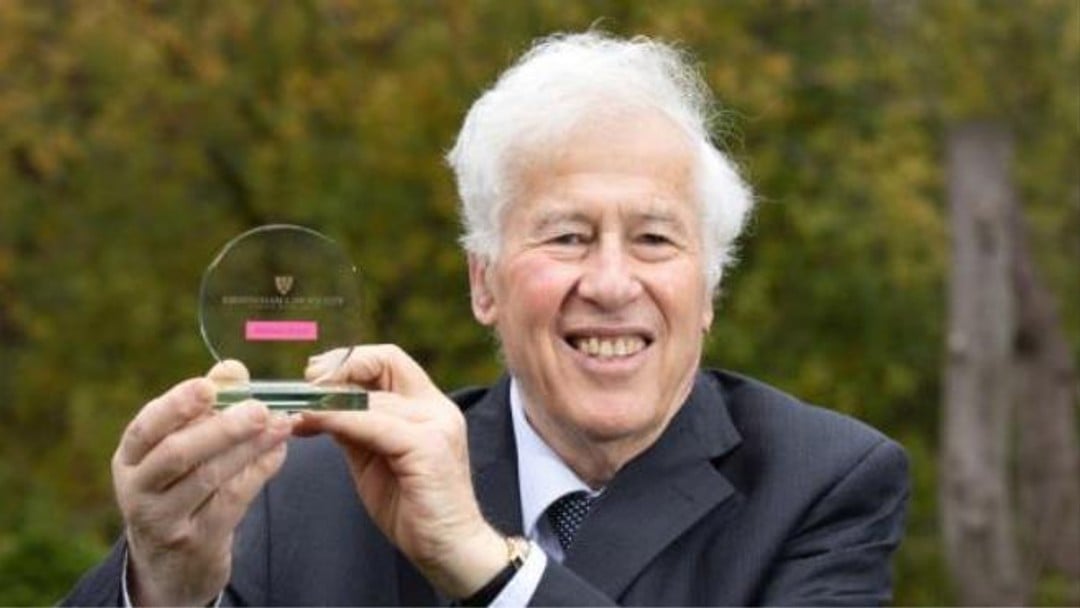 By Nicola Laver
Michael Orlik been formally recognised for a legal career spanning 50 years and counting, demonstrating that a long life in the law can be highly satisfying
Property lawyer Michael Orlik has been formally recognised for a legal career spanning 50 years and counting, demonstrating that a long life in the law can be highly satisfying. 
Michael (pictured), a commercial property specialist at 26-partner firm Lodders, headquartered in Stratford-upon-Avon, was admitted as a solicitor in October 1970 and has been with the firm since 2002. 
Half a century on from qualifying and with a pandemic in full swing, Michael was presented with a commemorative plaque on behalf of Birmingham Law Society (BLS) by Lodders' managing partner Paul Mourton.
An in person presentation will take place at BLS in the new year when restrictions are lifted. 
Michael spent the first half of his legal career in local government and is now known as one of the country's leading experts on highway law (he authored An Introduction to Highway Law, now in its fourth edition).
In 1990, he entered private practice as a partner at Needham and James in Birmingham (which later merged with Dibb Lupton Alsop in 1993) before heading to Lodders.
An Oxford graduate, Michael was instrumental in securing changes to the law on compensation for compulsory purchase in respect of advance payments to ensure disposed landowners have the finances to reduce or pay off mortgage debt on the land; and avoid being out of pocket or bankrupted while lengthy negotiations and arguments drag on to finalise the amount of compensation payable.
Michael says other career highlights include representing clients at public inquiries.
"Whilst not always of legal significance, cases were of course always of great importance to the individuals involved", he commented.
"In two cases, I was successful in helping clients get public rights of way, which had been mistakenly and unjustly shown across their properties, removed. 
"This is often an uphill battle and few attempts have been successful.
"Several years later, one of my compulsory purchase cases was one of the last to be heard by the House of Lords just before its jurisdiction was transferred to the Supreme Court."
Michael was also in court for what he described as "the very unfair trial of the Rolling Stones" in the West Sussex Quarter Sessions in 1967, while serving articles with the clerk of the West Sussex County Council.
"As a young, idealistic trainee lawyer, I was appalled at the injustice," he recalls. 
He adds: "Whilst slightly mystified that it is now fifty years since I was admitted to the legal profession, I can honestly say that I have enjoyed the whole of my career very much, both in the public and private sector."
Mourton praised Michael for standing out as a nationally acclaimed expert on UK highway law.
"He has played a key role in establishing Lodders as the experts in matters concerning highways and rights of way amongst developers, landowners, and local authorities, providing them with specialist advice in this highly technical area of the law", he added.
"We congratulate Michael on his fifty years in the legal profession, and thank him for his continuing contribution to the firm and support of the commercial property team."